Phil Davis moved a step closer to a potential title shot as he defeated Lyoto Machida by unanimous decision in the co-main event of UFC 163.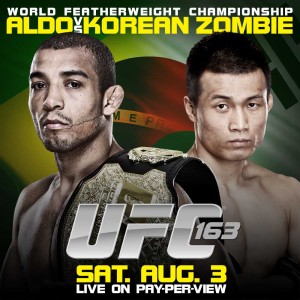 The bout opened with Davis landing kicks to the body and legs. Machida responded by throwing leg kicks as well and held his hands low to get Davis to come near him.
Machida landed a head kick that had Davis on his heels but he was not able to follow up the kick. After an exchange of kicks, Machida exploded towards Davis and landed a flurry of punches.
Davis would survive the flurry and took the fight to the ground in the final 40 seconds of the round. While on the ground, Davis looked for a submission but Machida escaped the attempt and Davis kept the fight on the ground until the end of the round.
In the second round, Machida was able to keep the fight on the feet and continued to win the fight on the feet. He was able to stop a takedown of Davis early in the round and was able to land a good straight punch during the round. Davis was able to get a takedown in the final 20 seconds of the round and landed several punches on the ground before the round came to an end.
In the final round, Machida was able to stop the takedown attempts of Davis as he attempted to get the fight to the ground on several occasions. Machida was able to stay away from the big punches of Davis and counter the strikes. The round would end with Machida stopping a takedown attempt and the fight would be decided by the judges scorecards.
All three judges scored the fight for Davis, which surprised the fans in attendance in Brazil and most of the MMA community on Twitter. Davis (12-1, 1NC) has now won three fights in a row and could be a win away from a title shot.
UFC 163 Results:
Phil Davis def. Lyoto Machida via unanimous decision (29-28, 29-28, 29-28)
Cezar Ferreira def. Thiago Santos via submission (guillotine choke) – Round 1, :47
Thales Leites def. Tom Watson via unanimous decision (30-27, 30-27, 30-27)
John Lineker def. Jose Maria via TKO (strikes) – Round 2, 1:03
Anthony Perosh def. Vinny Magalhaes via KO (strikes) – Round 1, :14
Amanda Nunes def. Sheila Gaff via TKO (strikes) – Round 1, 2:08
Sergio Moraes def. Neil Magny via submission (triangle choke) – Round 1, 3:13
Ian McCall def. Illiarde Santos via unanimous decision (30-27, 30-27, 30-27)
Rani Yahya def. Josh Clopton via unanimous decision (29-28, 29-28, 29-28)
Francimar Barroso def. Ednaldo Oliveira via unanimous decision (30-27, 30-27, 29-28)
Viscardi Andrade def. Bristol Marunde via TKO (strikes) – Round 1, 1:36