The final preliminary bout of UFC 163 on Facebook was a featherweight bout and Rani Yahya won his third straight fight with a decision victory over Josh Clopton.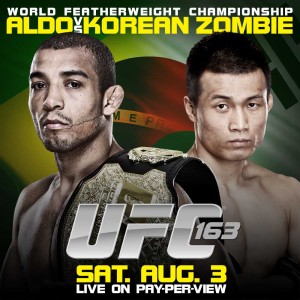 Yahya opened the fight by landing his strikes and looked for a takedown in the opening minute of the fight. Clopton was able to stop the attempt but Yahya grabbed the leg of Clopton and looked for a heel hook submission.
Clopton would defend the submission attempt and Yahya would get to top position and attempted to pass to side control. While attempting to pass, Yahya landed several strikes including short elbows.
After being unable to get to side control, Yahya was able to get to the full mount position in the final minute of the round. They would stay in this position until the end of the round with Yahya looking for submissions until the bell sounded.
As the second round opened, each fighter landed combinations before Yahya looked for a takedown. He would be able to get the takedown against the fence and trapped the left arm of Clopton under him. With having the arm trapped, he landed several strikes. Clopton would be able to free his arm but Yahya continued to control the fight.
Yahya would pass to the full mount position and Clopton would be able to get him out of the position. Yahya would continue to work his ground game and once again moved into the full mount position. He would land several strikes in the position and the fight would move into the final round.
In the final round, Yahya attempted to take the fight to the ground in the first 15 seconds but Clopton stopped the attempt. Yahya would go for another attempt but when the fight went to the ground, Clopton was able to get top position. He was unable to do any damage in the position and ended up getting up and forcing Yahya to stand with him.
Shortly after they stood up, the fight went back to the ground with Clopton landing ground strikes. Once again, they would separate and immediately go back to the ground and the fight would end on the ground and the judges would decide the winner.
All three judges scoring the fight gave Yahya (19-7) two of the three rounds and he has won three straight and four of his last five fights. Clopton (6-2-1) has now drop back to back fights and could be released from the UFC following this defeat.
UFC 163 Results:
Rani Yahya def. Josh Clopton via unanimous decision (29-28, 29-28, 29-28)
Francimar Barroso def. Ednaldo Oliveira via unanimous decision (30-27, 30-27, 29-28)
Viscardi Andrade def. Bristol Marunde via TKO (strikes) – Round 1, 1:36