In the opening fight of the UFC 164 pay-per-view was a featherweight bout as Dustin Poirier defeated Erik Koch by unanimous decision.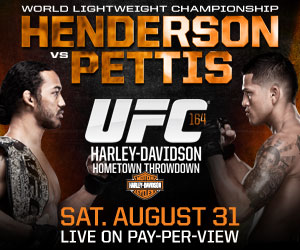 In the first minute of the fight, Poirier dropped Koch with a right hand and went for the finish on the ground with strikes.
However, Koch was able to survive the strikes and attempted a triangle choke. Poirier would survive the submission attempt and got back to his feet.
Once again, Poirier would drop Koch with a right hand and landed multiple significant strikes on the ground. With being unable to get the finish with strikes, Poirier went for a d'arce choke submission and Koch was able to survive and make it to the second round.
Poirier was able to continue his success in the second round as he used his striking to set up a leg trip takedown. While on the ground, Poirier began to work his submission game and started by going for an arm triangle choke. He could not get the submission and started throwing punches from the mount position. Koch was able to work his way back to his feet and they clinched against the fence. Koch would be able to escape and they exchange strikes until the end of the round.
In the final round, Poirier looked for a takedown in the opening thirty seconds. Koch would stop the attempt and he would take Poirier down. Koch was able to get the back of Poirier and began to look for a rear-naked choke. He would be unable to get the submission before the end of the round and the fight headed to the judges scorecards.
All three judges scored the fight for Poirier (14-3) and he has now won two of his last three fights.
UFC 164 Results:
Dustin Poirier def. Erik Koch via unanimous decision (29-28, 29-27, 29-27)
Gleison Tibau def. Jamie Varner via split decision (29-28, 27-29, 29-28)
Tim Elliot def. Louis Gaudinot via unanimous decision (30-27, 30-26, 30-26)
Hyun Gyu Lim def. Pascal Krauss via TKO (strikes) – Round 1, 3:58
Chico Camus def. Kyung Ho Kang via unanimous decision (29-28, 29-28, 30-27)
Soa Palelei def. Nikita Krylov via TKO (strikes) – Round 3, 1:34
Al Iaquinta def. Ryan Couture via unanimous decision (30-27, 30-27, 30-27)
Magnus Cedenblad def. Jared Hamman via submission (guillotine choke) – Round 1, :57