Following the conclusion of the UFC Fight Night 26 main card on Fox Sports 1, the UFC held the post fight press conference from the TD Garden in Boston.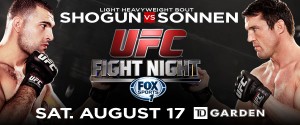 The press conference was attended by UFC President Dana White, Mauricio "Shogun" Rua, Chael Sonnen, Travis Browne, Matt Brown, John Howard, Michael Johnson, Michael McDonald and Conor McGregor.
White and all the fighters took questions on tonight's fight card including Sonnen talking about what will be next for him. The complete UFC Fight Night 26 Post Fight Press Conference is available below.