MMA is truly the fastest growing sport in the world today; with promotions outside the UFC not only scrapping by but succeeding and developing a market of their very own. Yet even with an ever expanding market, none can match the level of talent found in the UFC today.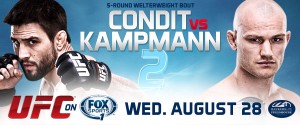 In 2007 when PRIDE FC passed the torch to the Ultimate Fighting Championships, an unprecedented explosion of exponential growth and development occurred.
With the expansion of talent scouting, main stream media coverage, and support of television giant FOX; the UFC seems to have an overabundance of fans to please. This lead to signing more and more talent, as well as a drastic increase in UFC events.
Fast forward to today, the 3rd week of August 2013. With two UFC events less than 72 hours apart from each other, UFC Fight Night 27 and UFC 164, it seems UFC fans have little to complain about these days. For fans of The Ultimate Fighter reality series, many names will be recognizable on August 28th. With 10 out of 24 fighters on the UFN 27 card being former cast members of The Ultimate Fighter reality series (including 3 tournament winners).
The card has high stakes on its co-main event/main event as well, with Donald "Cowboy" Cerrone and Rafael dos Anjos battling to maintain a top 10 status at 155lbs. The main event featuring a rematch/grudge match between "The Natural Born Killer" Carlos Condit and Martin "The Hitman" Kampmann.
Donald Cerrone (20-5-1) vs. Rafael dos Anjos (19-6):
Cerrone  has been a force to be reckoned in the UFC's lightweight division since moving over from the WEC in February of 2011. Going 7-2 since joining the promotion, the former professional kick boxer's only speed bumps have been dropping a FOTN decision to Nate Diaz and 1st round TKO to now title contender Anthony Pettis.
Despite his background as a striker, 13 of Cerrone's 20 MMA victories have come by way of submission, illustrating a well rounded game. With the backing of world class trainer Greg Jackson, a history of title contention in the WEC, and a "back on track" win over K J Noons "Cowboy" is working to gain a number one contender spot in the near future.
Brazilian Jiu Jitsu black belt Dos Anjos has yet to earn the respect of the casual MMA fan. Despite a rough 0-2 start in the UFC, he has amassed an 8-4 record since joining the promotion in late 2008. Compiling wins over top names such as Terry Etim, George Sotiropoulos, and Mark Bocek. Coming off a controversial Unanimous Decision win over Evan Dunham in Brazil in his last outing, he will be looking to prove is 4 fight win streak is no fluke.
Carlos Condit (28-7) vs. Martin Kampmann (20-6)
Condit is the former and final WEC welterweight champion. His UFC debut was against the promotional mainstay Martin Kampmann. In an extremely close back and forth fight, Condit lost a controversial split decision.
Since then Carlos went on a 4 fight win streak only to enter a pro wrestling type drama situation. Originally scheduled to face former lightweight and welterweight champion BJ Penn. Condit was forced to sit out 8 months for an interim title shot against Nick Diaz, the winner receiving an injured GSP's belt. Condit won the bout via an extremely controversial unanimous decision.
Again, Condit decided to sit out another 9 months to wait for GSP's return, essentially bringing the UFC welterweight title to a non existent standstill. Many considered this a mistake on Condit's part, feeling "ring rust" would be an issue. They could not have been more wrong, with Condit showing drastic improvement in all areas of his game. Despite his improvements, he lost a unanimous decision to GSP. Managing to be only the second man to drop St. Pierre with strikes, and even being told by the champ himself, "You are the best I have ever fought"; he has little to be upset about.
In his most recent bout against now title contender Johnny Henricks, he lost via unanimous decision in a FOTN winner and FOTY candidate. During the bout he displayed an iron chin and superior cardio to Hendricks, coming on strong in the last round. (Fun Fact: Carlos Condit, in 35 pro fights has never lost 3 in a row)
Martin Kampmann joined the UFC with a 9-1 record, having since gone 11-5 and maintaining a top spot in the promotions welterweight division. "The Hitman" can boast wins over such names as Thales Leites, Carlos Condit, Jacob Volkmann, and Rick Story.
At the start of 2012, Kampmann had won 1 of his last 3 fights. Leaving him in a must win situation in which he rose to the challenge. With efforts that could endorse a nickname change to "The Comeback Kid", Kampmann earned 2 come from behind victories against top contenders Thiago Alves and Jake Ellenberger; both victories earning him a UFC post fight Bonus (SOTN & KOTN).
His next opponent was now title contender Johnny Hendricks, who rendered "The Hitman" unconscious via his signature left hook at only 46 seconds of the first round. The rematch between Condit and Kampmann may not be earning either man a title shot, but will definitely influence the UFC's welterweight division for some time to come.