A light heavyweight bout is now official as the main event of UFC Fight Night 32 in Brazil on November 9th as Vitor Belfort and Dan Henderson will have a rematch of their 2006 bout.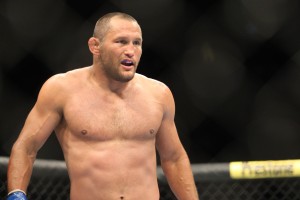 The bout was made official today by the UFC and the fight card will come from Goiania, Goiás, Brazil and the venue is expected to be the Goiania Arena.
In today's announcement, the UFC did not reveal the broadcast plans but Fox Sports 1 already has a scheduled college football game on that night so the card may end up being on Fox Sports 2.
Belfort and Henderson met back in 2006 at Pride 32 in a light heavyweight bout with Henderson winning by unanimous decision. After the fight was over, it was learned that Belfort has tested positive for elevated levels of testosterone.
Henderson (29-10) has lost back to back fights after his fight of the year victory against Mauricio "Shogun" Rua at UFC 138 in November of 2011. His last two defeats have come by split decision with the defeats coming against former UFC light heavyweight champions Lyoto Machida and Rashad Evans.
Belfort (23-10) returned to the UFC in 2009 and has won five of his seven fights since coming back to the organization. He has won his last two fights and most recently defeated the last Strikeforce middleweight champion Luke Rockhold at UFC on FX 8 by knockout in the first round.
More details on this fight card will be announced in the near additional bouts, venue, ticket on-sale and United States broadcast details.