Tyrone Spong, Ray Sefo and Gerald Harris topped the World Series of Fighting 4 salaries according to the California State Athletic Commission.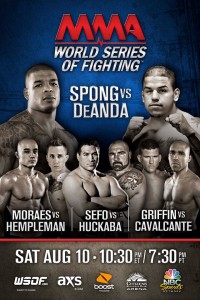 The commission released the information to TheMMAReport.com on Monday evening after the information was requested.
WSOF 4 took place from the Citizens Business Bank Arena in Ontario, California and Spong defeated DeAnda in the main event by unanimous decision.
The total disclosed payroll for WSOF 4 was $225,000 and Spong was the highest earner as he received $31,000 for his victory over DeAnda, who received $4,000.
The complete WSOF 4 fighter salaries are below.
Tyrone Spong: $31,000 def. Angel DeAnda: $4,000
Marlon Moraes: $24,000 def. Brandon Hempleman: $3,000
Nick Newell: $28,000 def. Keon Caldwell: $2,000
Dave Huckaba: $12,000 def. Ray Sefo: $30,000
Gesias Cavalcante: $18,000 def. Tyson Griffin: $8,000
Gerald Harris: $30,000 def. Jorge Santiago: $13,000
Lewis Gonzales: $4,000 def. Antonio McKee: $6,000
Jared Papazian: $4,000 def. John Robles: $2,000
Victor Valenzuela: $4,000 def. Isaac Gutierrez: $2,000