The World Series of Fighting 4 weigh-ins took place on Friday afternoon in California and all of the fighters on the main card were on weight.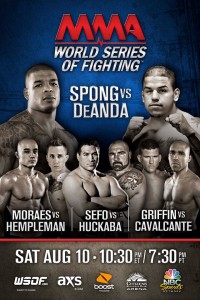 Today's weigh-in event took place at the Dave and Buster's at Ontario Mills Mall in Ontario, California and tomorrow night's fight card will take place from the Citizens Business Bank Arena in Ontario, California.
The main card tomorrow night on NBC Sports Network will begin at 10:30 p.m. ET/7:30 p.m. PT and will be headlined by a light heavyweight bout as Tyrone Spong (205 lbs) meets Angel DeAnda (205 lbs).
Preliminary card fighter Jorge Santiago was unable to be on weight when he weighed in originally. He initially weighed in at 172.4 pounds for his welterweight bout against Gerald Harris. He was given additional time to make weight and he made weight on his second attempt at 170.2 pounds.
The complete WSOF 4: Spong vs. DeAnda weigh-in results are below:
Main Card: (NBC Sports Network – 10:30 p.m ET/7:30 p.m. PT)
Tyrone Spong (205) vs. Angel DeAnda (205)
Marlon Moraes (136) vs. Brandon Hempleman (136)
Nick Newell (155) vs. Keon Caldwell (156)
Ray Sefo (255) vs. Dave Huckaba (264)
Tyson Griffin (156) vs. Gesias Cavalcante (156)
Preliminary Card: (WSOF.com – 8 p.m. ET/5 p.m. PT)
Jorge Santiago (170.2) vs. Gerald Harris (171) *
Antonio McKee (155) vs. Lewis Gonzalez (156)
Jared Papazian (136) vs. John Robles (134)
Isaac Gutierrez (150) vs. Victor Valenzuela (150)
* – Santiago initially missed weight but made weight on his second attempt