UFC lightweight champion Anthony Pettis suffered a knee sprain during his submission win over Benson Henderson at UFC 164 and the injury will not require surgery.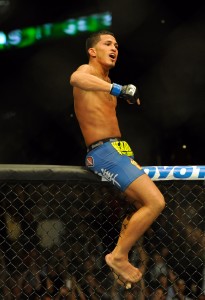 UFC President Dana White made the announcement tonight on ESPN and stated that Pettis has a grade two sprain and will be out of action for seven weeks.
The injury took place early in the fight last Saturday night and Pettis explained how it happened at the post fight press conference.
"Henderson threw a kick and I went to check with my left leg and he hit right in the crook of the knee so it was like I felt it go back and forth," Pettis said. "I don't know what happened yet. I stepped on it, it was hurting a little bit so when he had me against the cage I was going with one leg cause it was starting to lock up."
Also, White announced that TJ Grant will be the first title challenger for Pettis and it will not be UFC featherweight champion Jose Aldo. White did on to say that is Pettis were to defeat Grant, it was "likely" that a matchup between Pettis and Aldo would take place.
A potential date for Pettis and Grant was not speculated during White's appearance on SportsCenter but it's likely that the fight will take place in the early part of 2014.