Bellator put on its second Friday night show of season nine on Spike TV this past weekend to increased DVR numbers.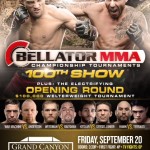 According to Nielsen sources, Bellator 100's preliminary viewership number landed at 700k total viewers and has since increased slightly to 736,000 total viewers thanks to the live+3 DVR numbers.
This is now the second week in a row that Bellator has eclipsed the 700k total viewership number for the live+3 DVR number.  For more information on what this means and on Nielsen ratings in general, check out my article from earlier in the week here.
As a reminder, this adjustments was due to the live + 3 (DVR) numbers which will be released every Tuesday. For those new to Nielsen ratings terminology, live + 3 is a equal to a total of live viewership plus 3 days worth of DVR usage.
Stay with TheMMAReport.com for ongoing coverage of the Nielsen ratings battle between Bellator MMA and the UFC.