A pair of bouts have been added to UFC 167 in November as Ed Herman meets Rafael Natal in a middleweight bout and Erik Perez faces Edwin Figueroa in a featherweight bout.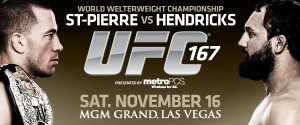 UFC officials announced both fight bookings on Monday evening and both fights will be apart of the preliminary card.
UFC 167 takes place on November 16th from the MGM Grand Garden Arena in Las Vegas and will be headlined by Georges St-Pierre defending the UFC welterweight title against Johny Hendricks.
Herman (21-9, 1NC) is 4-1, 1NC in his last six fights and is coming off a split decision win over Trevor Smith at UFC on FOX 8. He was awarded the fight of the night bonus and it was his first fight night bonus since 2007. Natal (17-4-1) has won three in a row and five of his last seven. He most recently defeated Tor Troeng by unanimous decision and won the fight of the night bonus.
Perez (13-5) entered the UFC in late 2012 and won his first three fights in the UFC by first round stoppage. He had his eight fight win streak snapped last month by Takeya Mizugaki at UFC Fight Night 27 as he lost by split decision. Figueroa (9-3) has lost back to back fights in the UFC after winning two straight fights in the promotion. His most recent defeat came at UFC 161 as he was defeated by Roland Delorme by unanimous decision.
The current UFC 167: St-Pierre vs. Hendricks card is below.
Georges St-Pierre (24-2) vs. Johny Hendricks (15-1)
Chael Sonnen (29-13-1) vs. Rashad Evans (18-3-1)
Alistair Overeem (36-12, 1NC) vs. Frank Mir (16-8)
Rory MacDonald (15-1) vs. Robbie Lawler (21-9, 1NC)
Josh Koscheck (17-7) vs. Tyron Woodley (11-2)
Donald Cerrone (20-6, 1NC) vs. Evan Dunham (14-4)
Rick Story (15-7) vs. Brian Ebersole (50-15-1)
Ed Herman (21-9, 1NC) vs. Rafael Natal (17-4-1)
Erik Perez (13-5) vs. Edwin Figueroa (9-3)