A featherweight bout that was initially scheduled to take place next month in Brazil has been rebooked by the UFC as Rony Jason and Jeremy Stephens will now meet at UFC Fight Night 32.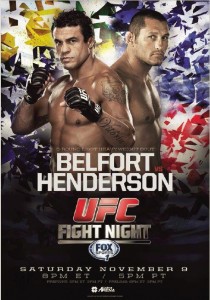 UFC officials announced the new date for the fight on Wednesday evening and the bout will likely be apart of the main card broadcast on Fox Sports 1.
UFC Fight Night 32 will come from the Goiania Arena in Goiania, Goias, Brazil and will be headlined by a light heavyweight bout as Vitor Belfort meets Dan Henderson in a rematch of their 2006 bout.
Jason (13-3) won the Ultimate Fighter Brazil featherweight tournament last year and has won his last eight fights. He is coming off a technical submission victory over Mike Wilkinson at UFC on FUEL TV 10 and his last two wins have come by stoppage.
Stephens (21-9) recently dropped down to the featherweight division and defeated Estevan Payan by unanimous decision in his debut in the division. The victory snapped a three fight losing streak and it was his first victory since 2011.
The current UFC Fight Night 32: Belfort vs. Henderson II card is below.
Vitor Belfort (23-10) vs. Dan Henderson (29-10)
Cezar Ferreira (4-2) vs. Daniel Sarafian (9-3)
Rony Jason (13-3) vs. Jeremy Stephens (21-9)
Rafael Cavalcante (11-4, 1NC) vs. Igor Pokrajac (25-10, 1NC)
Jose Maria (33-4, 2NC) vs. Dustin Ortiz (11-2)
Godofredo Pepey (10-2) vs. Sam Sicilia (11-3)
Thiago Tavares (21-5-1) vs. Quinn Mulhern (18-3)
Brandon Thatch (10-1) vs. Paulo Thiago (15-5)
Adriano Martins (24-6) vs. Daron Cruickshank (13-3)
Thiago Perpetuo (9-2-1) vs. Omari Akhmedov (11-0)