The 20th anniversary UFC show will take place in Las Vegas on November 16th and a heavyweight bout of former champions has been added to the card as Alistair Overeem will meet Frank Mir.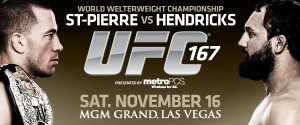 UFC officials confirmed the fight booking on Thursday evening after it was reported by Adam Hill of the Las Vegas Journal-Review.
UFC 167 takes place on November 16th from the MGM Grand Garden Arena in Las Vegas and will be headlined by Georges St-Pierre defending the UFC welterweight title against Johny Hendricks.
Overeem (36-12, 1NC) has dropped back to back fights after winning his UFC debut over former heavyweight champion Brock Lesnar. During his losing streak, both of the defeats have come by knockout and he most recently was defeated by Travis Browne at UFC Fight Night 26.
Mir (16-8) is also on a losing streak as he has been defeated in three straight fights. Two of the three defeats have come by TKO with the most recent defeat coming last weekend at UFC 164 against Josh Barnett.
The current UFC 167: St-Pierre vs. Hendricks card is below.
Georges St-Pierre (24-2) vs. Johny Hendricks (15-1)
Chael Sonnen (29-13-1) vs. Rashad Evans (18-3-1)
Alistair Overeem (36-12, 1NC) vs. Frank Mir (16-8)
Rory MacDonald (15-1) vs. Robbie Lawler (21-9, 1NC)
Josh Koscheck (17-7) vs. Tyron Woodley (11-2)