Rafael Natal won his third straight fight in the UFC as he defeated Tor Troeng by unanimous decision on the UFC Fight Night 28 main card.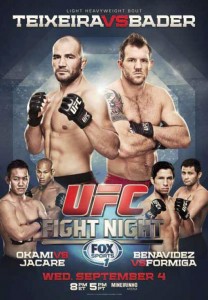 In the first minute of the fight, Natal landed a punch that dropped Troeng and the fight went to the ground with Natal in the half guard position. Natal began to look for a guillotine choke and Troeng was able to defend the submission. Troeng was able to reverse the position and he was in the guard of Natal. Troeng would end the round in the position and the fight moved into the second round.
Natal opened the second round with a right hand that dropped Troeng and Natal landed multiple strikes on the ground. Troeng was able to surive and stay in the fight. Natal would maintain top position on the ground at the mid point of the round but Troeng was able to get back to his feet with a minute a half left in the round. The round came to an end with them clinching against the fence and Natal may be wearing down.
Troeng attempted to get the fight to the ground in the opening minuted but Natal went for a guillotine choke. Natal took the choke to the ground and Troeng was able to work his way out of the submission. After a series of sweeps, Natal was able to get on the back of Troeng in the final minute of the fight but was unable to get a finish before the final bell sounded.
Natal (17-4-1) won the fight on all of the judges scorecards and he has now won three straight and five of his last six fights. The defeat for Troeng (16-5-1) snaps a five fight winning streak and he is now 1-1 in the UFC.
UFC Fight Night 28 Results:
Rafael Natal def. Tor Troeng via unanimous decision (30-27, 30-27, 29-28)
Ali Bagautinov def. Marcos Vinicius via TKO (strikes) – Round 3, 3:28
Kevin Souza def. Felipe Arantes via split decision (29-28, 28-29, 29-28)
Lucas Martins def. Ramiro Hernandez via submission (rear-naked choke) – Round 1, 1:10
Elias Silverio def. Joao Zeferino via unanimous decision (29-28, 30-27, 30-27)
Ivan Jorge def. Keith Wisniewski via unanimous decision (29-28, 30-27, 29-28)
Sean Spencer def. Yuri Villefort via split decision (30-27, 28-29, 29-28)