Joe Warren will return to the Bellator cage on Saturday night as he looks to become only the second fighter in Bellator history to win two tournaments in two different weight classes as he meets Nick Kirk in the bantamweight tournament semifinals.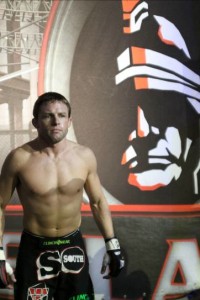 Warren (8-3) will be stepping into the cage for the first time Saturday night since his unanimous decision win over Owen Evinger at Bellator 80 last year. That was nine months ago and this is the longest break between two fights in his career.
"The Baddest Man on the Planet" has been keeping himself busy in MMA as he was one of the coaches on the first season of "Fight Master: Bellator MMA." Along with training at his home base in Colorado, he also trained with Greg Jackson and Jeff Mayweather for this fight.
He spent nearly a month training with Jackson's MMA in Albuquerque, New Mexico for his training camp and he used the time to pick the brain of Jackson to become a better fighter.
"I just used Greg Jackson and Team Jackson to help me as much as I could," Warren told TheMMAReport.com. "I need some fundamental stuff, technique and I needed to pick a champions brain like Greg. The good thing about Greg and Team Jackson that they have been just doing it for such a long time and have so many champs."
His opponent on Saturday night will be stepping into the Bellator cage for the third time and will be searching for his first win in Bellator. After Kirk (10-2) lost his Bellator debut in 2012, he has won three of his last four fights and the defeat came by split decision at Bellator 87 against Tony Zelinski.
While Warren may not have any thoughts on his opponent on Saturday night at the Mohegan Sun in Connecticut, he does see the fight as the chance to get the ball rolling for another crack at a Bellator title.
"I have no thoughts on him. He is just a body in front of me to beat a whole in the Bellator cage. That is the only thing I see. I have some goals set in my mind to finish up this career of mine and it's just the first step. I see him as the first step to start that ball rolling and it's very important to me. I am not looking past anyone. I am just not looking at him. I am worried about the technique I am going to do personally. I am worried about trying to perfecting my form and be as safe as possible and as violent as possible in that cage. That should control the rest of the match. I should not have to worry about what he is going to do. If I can do what I do best, I believe that fight is mine all day long."
The other semifinal bout in this Bellator bantamweight tournament will not take place until Bellator 100 on September 20th when undefeated fighter Brandon Bender meets Bellator veteran Travis Marx. The finals of this tournament will likely take place before the conclusion of the ninth season of Bellator with the winner getting a title shot in 2014.
Warren admitted that he did not know who the other fighters were in the tournament as he is just concerned what is in front of him this week.
"I don't even know who else is in that tournament, I hate to say it. The only thing in front of me right now is this fight on Saturday. If this fight does not go down on Saturday, I be grabbing the microphone and doing a lot of [expletive] talking for Spike as much as I can. The only thing I am thinking about right now is focus on Nick Kirk and Saturday, finishing this fight in the Mohegan Sun on Spike. That is the only thing I am thinking about. If that works out, then we will move forward and we will keep taking about this next fight. One fight, one step at a time."