The World Series of Fighting 5 Weigh-Ins took place on Friday afternoon and main card fighter Waylon Lowe was the only fighter that did not make weight.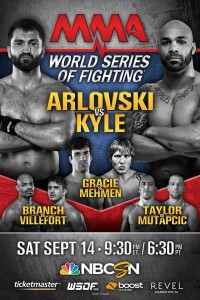 Today's event took place at the Revel Resort in Atlantic City, New Jersey and the same venue will host tomorrow night's card which will air live on the NBC Sports Network.
The card will be headlined by a heavyweight bout as former UFC champion Andrei Arlovski (240 lbs) will meet Mike Kyle (218.5 lbs).
The main card on the NBC Sports Network will also feature the semifinals in the inaugural middleweight tournament as Dave Branch (185.8 lbs) meets Danillo Villefort (185 lbs) and Elvis Mutapcic (186 lbs) faces Jesse Taylor (185 lbs).
There were two fighters that were initially over weight and that was Lowe and Jimmy Rivera. Both fighters were given an additional hour to make weight and Rivera was able to make the bantamweight limit of 136 pounds. However, Lowe was unable to make the featherweight limit of 146 pounds as he missed weight by .2 pounds.
The complete WSOF 5: Arlovski vs. Kyle weigh-in results are below.
Main Card: (NBC Sports Network – 9 p.m. ET/6 p.m. ET)
Andrei Arlovski (240) vs. Mike Kyle (218.5)
Dave Branch (185.8) vs. Danillo Villefort (185)
Rolles Gracie (249.2) vs. Derrick Mehmen (246.8)
Elvis Mutapcic (186) vs. Jesse Taylor (185)
Georgi Karakhanyan (145.2) vs. Waylon Lowe (146.2) *
Preliminary Card: (WSOF.com – 6 p.m. ET/3 p.m. PT)
Rick Glenn (144.8) vs. Artur Rofi (146)
Sidemar Honorio (136) vs. Jimmie Rivera (136) **
Gregor Gracie (170.6) vs. Richard Patishnock (170.6)
Ozzy Dugulubgov (160.2) vs. Andrew Osbourne (160.6)
Darren Costa (186) vs. Neiman Gracie (185)
* – Lowe missed weight by .2 pounds
** – Rivera initially missed weight, but made weight on second attempt