The 2014 UFC schedule was announced on Wednesday night by UFC President Dana White, and the organization will be holding 35 events next year.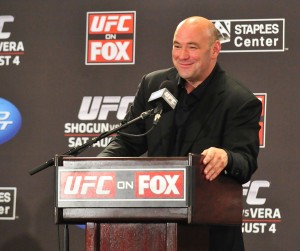 White made the announcement of the number of events the organization is planning to hold on Fox Sports Live on Fox Sports 1.
The planned 35 events is two more events than what is scheduled to take place this year and three more than what took place in 2012.
Here is a breakdown of the 35 planned UFC events in 2014.
Pay-Per-Views: 13
Fox: 4
Fox Sports 1: 14
Fox Sports 2: 4
Along with announcing the amount of events, it was revealed that UFC on FOX 10 will take place on January 25th from the United Center in Chicago. It was also announced that UFC 169 will take place on Super Bowl weekend in Newark, New Jersey at the Prudential Center, and UFC 170 will come from the Mandalay Bay Events Center in Las Vegas.
For the second straight year, the UFC is not planning to hold any pay-per-view events in the month of January, and will hold two pay-per-views in the month of February.