The middleweight title fight that was scheduled to take place last month has been rescheduled as Bellator middleweight champion Alexander Shlemenko will meet Doug Marshall at Bellator 108 next month in Atlantic City.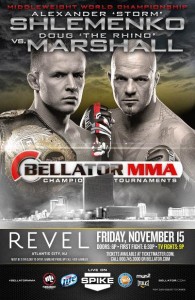 Bellator MMA announced the new date for the title fight on Wednesday.
Bellator 108 will take place on November 15th from Revel in Atlantic City and the main card will air on Spike TV beginning at 9 p.m. ET/6 p.m. PT.
Tickets are currently on sale for this fight card and can be purchased at Ticketmaster or by visiting Bellator.com with tickets starting at just $35.
Shlemenko (48-7) recently made his first title defense at Bellator 98 earlier this month as he defeated Brett Cooper by unanimous decision. It was his eleventh straight victory and improved his Bellator record to 9-1.
"Fans know exactly what to expect when they see me fight, and I like to entertain," Shlemenko said. "And I'm very glad that I'll have a chance to entertain them again fighting against Doug Marshall. He's a tough fighter, the type of fighter with whom I'll be able to show a spectacular bout that everyone will remember."
Marshall (18-6) won the season eight tournament earlier this year and a hand injury delayed his title fight with Shlemenko. He will be searching for his fifth straight victory and become the third Bellator middleweight champion.
"I'm super excited about this fight," Marshall said. "I was bummed when I had to watch Brett Cooper take my spot because of my injury, but after watching the fight I was able to see that there is no way Shlemenko can beat me. The only thing Shlemenko has is that he is tough. There is no doubt in my mind that I am the most powerful middleweight in the division. As soon as Shlemenko feels my fist on the side of his face he will be sleeping on the mat. Winning this fight is a no brainer for me."
Bellator MMA will be announcing more fights for this upcoming fight card in the coming weeks.