Following the conclusion of the Bellator 102 main card on Spike TV, Bellator MMA held the post fight press conference from the Visalia Convention Center.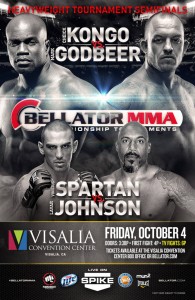 The press conference was attended by Bellator MMA Chairman and CEO Bjorn Rebney, Cheick Kongo, Mark Godbeer, Vinicius Spartan, Lavar Johnson, Rafael Silva, Anthony Leone, Mikkel Parlo, Jason Butcher, Brennan Ward, and Joe Pacheco.
Rebney and the fighters gave comments about Friday night's fight card, along with answering questions from the attending media.
The audio of the Bellator 102 Post Fight Press Conference is below.