Bellator 102 took place earlier this month at the Visalia Convention Center in Visalia, California, and all of the fighters were given at least a mandatory suspension of seven days.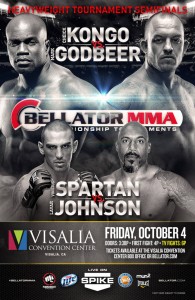 The California State Athletic Commission released the suspensions to TheMMAReport.com after they were requested.
The Bellator 102 main card was headlined by the season nine heavyweight and middleweight tournament semifinal bouts.
The longest suspensions handed out by the commission went to Mikkel Parlo, Jason Butcher, Poppies Martinez and William Richey. They all received six month suspensions and can be taken off suspension if cleared by a doctor.
Parlo defeated Butcher in one of the middleweight tournament semifinals and is scheduled to meet Brennan Ward in the tournament final in less than a month at Bellator 107. He receive the six month suspension for a right ankle injury and if he is not cleared by a doctor, Bellator could end up delaying the tournament final to a later date.
The complete Bellator 102 medical suspensions are below.
Cheick Kongo: Mandatory suspension of 7 days
Mark Godbeer: Suspended 45 days with no contact for 30 days (KO) and mandatory suspension of 7 days
Vinicius Spartan: Mandatory 7 days
Lavar Johnson: Suspended 45 days with no contact for 30 days (KO) and mandatory suspension of 7 days
Rafael Silva: Mandatory suspension of 7 days
Anthony Leone: Mandatory suspension of 7 days
Mikkel Parlo: Suspended 180 days with no contact for 180 days or until cleared by a physician (right ankle). Also, mandatory suspension of 7 days
Jason Butcher: Suspended 180 days with no contact for 180 days or until cleared by a physician (right tibia). Also, mandatory suspension of 7 days
Brennan Ward: Mandatory suspension of 7 days
Joe Pacheco: Suspended 45 days with no contact for 30 days (Submission) and mandatory suspension of 7 days
Scott Cleve: Mandatory suspension of 7 days
Issac De Jesus: Suspended 45 days with no contact for 30 days and mandatory suspension of 7 days
Javy Ayala: Mandatory suspension of 7 days
Thiago Santos: Suspended 45 days with no contact for 30 days (KO) and 180 days with no contact for 180 days or until cleared by a physician (possible broken rib). Also, mandatory suspension of 7 days
Brandon Girtz: Mandatory suspension of 7 days
Poppies Martinez: Suspended 180 days with no contact for 180 days or until cleared by a physician (left elbow). Also, mandatory suspension of 7 days
Stephen Martinez: Mandatory 7 days
Bryan Travers: Suspended 45 days with no contact for 30 days and mandatory suspension of 7 days
Cain Carizosa: Mandatory suspension of 7 days
Juan Quesada: Mandatory suspension of 7 days
Brandon Cash: Suspended 180 days with no contact for 180 days or until cleared by a physician (right shoulder). Also, mandatory suspension of 7 days
William Richey: Suspended 45 days with no contact for 30 days and 60 days with no contact for 60 days (right eye cut). Also, mandatory suspension of 7 days