Updated: Bellator 102 took place this past Friday night Visalia, California and the fight card featured five tournament bouts including Cheick Kongo and Vinicius Spartan advancing to the heavyweight tournament final.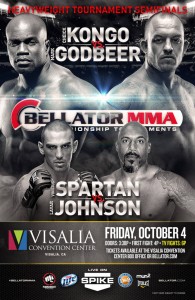 According to Nielsen sources, Bellator 102's preliminary viewership landed up slightly to its second highest audience of the season to 675k total viewers. Last weeks number landed at 649k total viewership number.
The repeat immediately following drew 460k total viewers bringing the cumulative live+replay viewership to 1.135 million viewers.
The peak for the show came during the main event between Kongo/Godbeer, which hit 958k total viewers.
Bellator did crack the top-100 cable shows, landing at #30 with a 0.3 rating in the 18-49 adult demographic.
Bellator's lead-in of Cops, drew its highest ratings since Bellator came back on its regular night drawing over 1.1 million viewers.
When it came to the competition, Bellator's biggest challenge for viewership and demographic numbers was MLB Baseball on TNT and the go-home edition of WWE's Smackdown.
MLB on TBS drew 4.13 and a 3.56 million viewers, while Smackdown on SyFy drew over 2.513 million viewers. All three programs were over 0.7 ratings in the 18-49 adult demographic.
Interesting note though, ESPN's College Football game between Nevada and San Diego State drew 35% more viewers than Bellator overall, but tied in the 18-49 adult demographic rating, so a clear win on the advertising front for Spike TV.
Stay with TheMMAReport.com for ongoing coverage of the Nielsen ratings battle between Bellator MMA and the UFC.