The Bellator 103 Weigh-Ins took place on Thursday afternoon at inside the Kansas Star Casino and all of the fighters were on weight.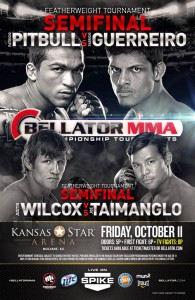 Tomorrow night's fight card will come from the Kansas Star Arena with the main card on Spike TV featuring the semifinals of the season nine featherweight tournament.
In the first semifinal bout, Justin Wilcox (145 lbs) will meet Joe Taimanglo (145 lbs), and Patricio Pitbull (145.6 lbs) will look to advance to his third tournament final as he faces Fabricio Guerreiro (146 lbs).
Also on the main card, season eight lightweight tournament winner David Rickels (155.7 lbs) fights in his home state against J.J. Ambrose (155 lbs), and Aaron Rosa (205.8) returns to Bellator to meet Mikhail Zayats (205 lbs).
The complete Bellator 103 Weigh-In Results are below.
Main Card: (Spike TV – 9 p.m. ET/6 p.m. PT)
Patricio Pitbull (145.6) vs. Fabricio Guerreiro (146) *
Justin Wilcox (145) vs. Joe Taimanglo (145) *
David Rickels (155.7) vs. J.J. Ambrose (155)
Aaron Rosa (205.8) vs. Mikhail Zayats (205)
Preliminary Card: (Spike.com – 7 p.m. ET/4 p.m. PT)
Carlos Eduardo (205) vs. Wayman Carter (202.3)
Remy Bussieres (155.8) vs. Blake Pool (152.7)
Maurice Jackson (261.2) vs. Matt Uhde (234.3)
Donnie Bell (156) vs. Marcio Navarro (155.8)
Jesse Thorton (134.9) vs. Jeimeson Saudino (134.8)
Ricky Musgrave (148.7) vs. Cody Carrillo (148.9)
* – Featherweight Tournament Semifinal Bout