Bellator MMA will hold their inaugural pay-per-view next Saturday night at the Long Beach Arena in California, and the organization has released an extended preview of the main card.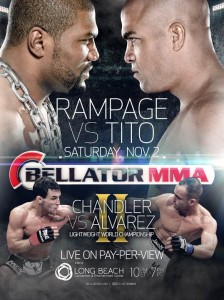 Next weekend's fight card will be headlined by a light heavyweight bout as former UFC champions meet as Quinton "Rampage" Jackson faces Tito Ortiz.
In the co-main event, Michael Chandler will defend the Bellator lightweight title against Eddie Alvarez in a rematch of their 2011 bout.
The Bellator 106: Rampage vs. Tito Extended Preview and Fight Card are below:
Main Card: (PPV – 10 p.m. ET/7 p.m. PT)
Quinton Jackson (32-11) vs. Tito Ortiz (16-11-1)
Michael Chandler (12-0) vs. Eddie Alvarez (24-3)
King Mo Lawal (11-2) vs. Emanuel Newton (21-7-1)
Pat Curran (19-4) vs. Daniel Straus (21-4)
Cheick Kongo (19-8) vs. Vinicius Spartan (7-3)
Preliminary Card: (Spike TV – 8 p.m. ET/5 p.m. PT)
Joe Riggs (39-14) vs. Mike Bronzoulis (15-5)
Terry Etim (15-5) vs. Patrick Cenoble (9-2)
Mike Richman (15-3) vs. Akop Stepanyan (13-6)
Karo Parisyan (22-10, 1NC) vs. Cristiano Souza (6-0)
Preliminary Card: (Spike.com – 6 p.m. ET/3 p.m. PT)
Joe Williams (10-3) vs. Jesse Juarez (20-8)
Brandon Halsey (4-0) vs. Hector Ramirez (9-5-1)
Mike Guymon (14-6-1) vs. Aaron Miller (14-8)
Joe Camacho (13-18-3) vs. Cleber Luciano (8-5)
Darren Smith (4-3) vs. Josh Smith (8-5)