Bellator MMA will be returning to the Santa Ana Star Center in Rio Rancho, New Mexico on October 25th with the main card being headlined by the semifinals in the season nine lightweight tournament.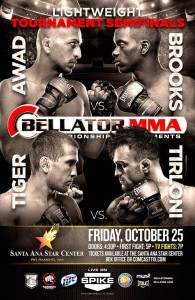 Bellator officials made the Bellator 105 card official on Tuesday evening by announcing the full card, which will have four fights on the main card.
In the lightweight tournament semifinals, Tiger Sarnavskiy (24-1) meets Ricardo Tirloni (16-4), and Saad Awad (15-5) faces Will Brooks (11-1).
The fight between Awad and Brooks is a rematch from their season eight semifinal bout, which Awad won by knockout in the first round. Just like their first meeting, the rematch will take place at the Santa Ana Star Center and Brooks is planning for a different result this time.
"I'm very excited and beyond ready for this semifinal fight against Awad," Brooks said. "Unfortunately I wasn't able to finish what I started in the first tournament, but this time around things will end differently. I continue to improve my game every day and stay focused on the goal at hand, which is beating Awad and moving on in the tournament."
Along with the tournament fights, the televised card on Spike TV will see a heavyweight bout as Ron Sparks (8-2) returns to the Bellator cage to meet Mighty Mo (4-2) and Andreas Spang (8-3) faces Eugene Fadiora (12-1) in a middleweight bout.
Tickets for the Bellator 105 are on sale now and can be purchased at Bellator.com or by visiting The Santa Ana Star Center box office. The current fight card is below, and includes the seven fight preliminary card that features Shawn Bunch, Luis Nogueira and Desmond Green.
Main Card: (Spike TV – 9 p.m. ET/6 p.m. PT)
Saad Awad (15-5) vs. Will Brooks (11-1)
Ricardo Tirloni (16-4) vs. Tiger Sarnavskiy (24-1)
Ron Sparks (8-2) vs. Mighty Mo (4-2)
Eugene Fadiora (12-1) vs. Andreas Spang (8-3)
Preliminary Card: (Spike.com – 7 p.m. ET/4 p.m. PT)
Steve Garcia (1-0) vs. Shawn Bunch (2-0)
Eddie Larrea (17-23) vs. Rocky Ramirez (4-4-1)
Adrian Cruz (5-0) vs. Jesse Brock (14-7)
Luis Nogueira (15-3-1) vs. Frank Baca (16-3)
Volkan Oezdemir (9-0) vs. Josh Lanier (3-7)
Joseph Bryant (4-2) vs. Raphael Butler (6-0)
Angelo Sanchez (12-3) vs. Desmond Green (8-2)