Cain Velasquez retained the UFC heavyweight title this past Saturday night in the main event of UFC 166 as he defeated Junior dos Santos by TKO in the fifth round.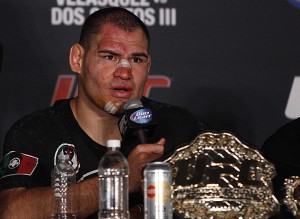 It was the second straight title defense for Velasquez and all signs point to his next title defense being against submission specialist Fabricio Werdum.
During Wednesday night's edition of UFC Tonight on Fox Sports 1, Velasquez was a guest on the show and stated that he has tons of respect for the game of Werdum.
"I have a lot of respect for him," Velasquez said. "He's a good jiu-jitsu guy and a good stand-up guy. He's a big, strong, tough guy. He's been at the top for a long time. I have lots of respect for him."
Werdum also appeared on Wednesday night's edition of UFC Tonight and Fox Sports reporter Ariel Helwani stated that Werdum would like to place Velasquez in February.
However, Velasquez has been suspended until April 18th by the Texas Department of Licensing and Regulation for a possible broken jaw. Velasquez did not mention anything about a potential broken jaw on Wednesday night as he only mentioned having a sore throat.
It would seem unlikely that the UFC would attempt to book the fight between Velasquez and Werdum in February. It would seem more likely that Velasquez's next title defense would be in the Spring of 2014.