UFC light heavyweight champion Jon Jones was scheduled to make his next title defense on Super Bowl weekend in New Jersey at UFC 169 against Glover Teixeira.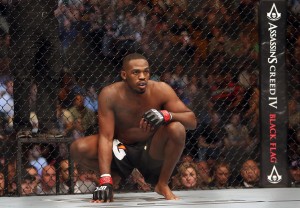 However, UFC President Dana White announced on Monday that the fight will not take place at UFC 169 on February 1st and will take place at a date to be determined.
White admitted during a conference call with the media that his public relations staff "jumped the gun on that one" and the fight was never a done deal.
He did not go into details on why the fight will not take place on the Super Bowl weekend card but did say it did not have to do with any injury. While no date is finalized for the title fight between Jones and Teixeira, the bout could potentially take place in March of next year.
The UFC is now searching for a new main event for the fight card which will come from the Prudential Center in Newark, New Jersey. The only fight that has been announced by the UFC at this time for the UFC 169 card is a heavyweight bout between former UFC champion Frank Mir and former Strikeforce champion Alistair Overeem.