After months of preparation and hype Bellator has confirmed that Tito Ortiz has suffered a fractured neck during training and his PPV fight with Rampage has been cancelled and the entire fight card has moved free SpikeTV.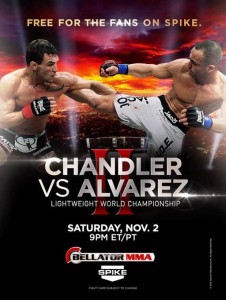 Bellator CEO Bjorn Rebney and Spike President Kevin Kay have jointly decided to provide the November 2 fight card to MMA fans on Spike TV, airing LIVE and FREE around the country.
The biggest card in Bellator history will air at 9:00pm EST LIVE on SPIKE TV and features an unprecedented three title fights featuring the promotion's biggest stars.
The night will now be headlined by the long-awaited rematch between Bellator Lightweight Champion Michael Chandler and former Bellator Champion Eddie Alvarez, along with an Interim Light Heavyweight Title fight between King Mo and Emanuel Newton, as well as a Bellator Featherweight Title fight between Pat Curran and Daniel Straus.
"I've said it since the day we announced the fight that Rampage vs. Tito was a fight I had wanted to see for years, and it's unfortunately something I'm going to have to continue to wait to see," said Bellator Chairman & CEO Bjorn Rebney. "After sitting down with our team and partners, the decision was obvious: Give the greatest MMA fans on earth this amazing show live and free on Spike. Our fans have been incredible to us and I'm thrilled to be able to give them this great card on the greatest network in MMA, Spike! Chandler vs. Alvarez II, Mo vs. Newton II and Curran vs. Strauss II are all unbelievable fights.  This is going to be a great, great night."
Main Card: (Spike TV – 9 p.m. ET/6 p.m. PT)
Michael Chandler (12-0) vs. Eddie Alvarez (24-3)
King Mo Lawal (11-2) vs. Emanuel Newton (21-7-1)
Pat Curran (19-4) vs. Daniel Straus (21-4)
Cheick Kongo (19-8) vs. Vinicius Spartan (7-3)
Joe Riggs (39-14) vs. Mike Bronzoulis (15-5)
Preliminary Card: (Spike.com – 7 p.m. ET/4 p.m. PT)
Terry Etim (15-5) vs. Patrick Cenoble (9-2)
Mike Richman (15-3) vs. Akop Stepanyan (13-6)
Karo Parisyan (22-10, 1NC) vs. Cristiano Souza (6-0)
Joe Williams (10-3) vs. Jesse Juarez (20-8)
Brandon Halsey (4-0) vs. Hector Ramirez (9-5-1)
Mike Guymon (14-6-1) vs. Aaron Miller (14-8)
Joe Camacho (13-18-3) vs. Cleber Luciano (8-5)
Darren Smith (4-3) vs. Josh Smith (8-5)