Spike TV just announced that they will be premiering part one of a new unscripted reality show titled "Rampage4Real" tonight at 11 p.m. EST/PST on Spike TV.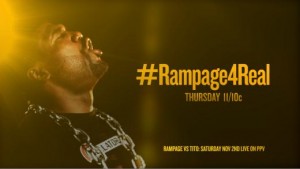 The three-part show will feature Rampage Jackson in his element as he gets ready for his showdown with Tito Ortiz on November 2nd at the Bellator PPV.
The first episode focuses on Rampage trying to get in the last of his partying before he starts training for Tito. Plus, it finds time to showcases his rock star life style.
Check out a few clips of the premiere episode below: