The trilogy bout between Cain Velasquez and Junior dos Santos took place on Saturday night in the main event of UFC 166 and Velasquez retained the UFC heavyweight title with a TKO victory in the fifth round.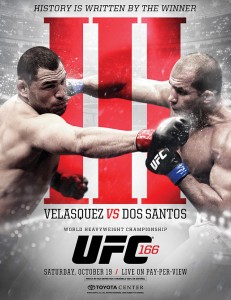 As the fight opened, Dos Santos hurt Velasquez with a punch and Velasquez looked to take the fight to the ground. He attempted a standing guillotine choke but Dos Santos defended the attempt. Once again, Dos Santos landed a right hand and hurt Velasquez.
They would continue to strike and once again, Velasquez looked for a takedown. They would clinch against the cage with Velasquez landing knees. He would get the fight to the ground and had top position. Dos Santos would get back to his feet and Velasquez looked for another takedown. He would not be able to get a takedown before the first round came to a conclusion and the fight moved into the second round.
The second round opened with both guys landing significant strikes and Velasquez looked for a takedown. Dos Santos was able to defend the attempt but Velasquez kept up the pace as he did not allow Dos Santos to get any space. Velasquez was able to keep the fight against the fence until the end of the round but Dos Santos did land a short elbow as the round came to an end.
Velasquez continued his pressure at the beginning of the third round as they clinched against the fence. After breaking away from the cage, Velasquez landed a right hand that dropped Dos Santos and went for the finish on the ground. After being unable to finish with strikes, he went for a submission. Dos Santos would be able to survive the flurry and make it to the championship rounds.
As the fourth round began, Velasquez landed a right hand and took the fight against the fence. He continued to land his strikes and kept the fight against the cage and battered Dos Santos. Referee Herb Dean would pause the fight to have the cage side doctor look at the cuts and his right eye. The doctor would let the fight continue and Velasquez continued to dominate until the bell sounded.
Velasquez's dominance continued in the final round as he hurt Dos Santos several times. Velasquez controlled the fight against the fence and Dos Santos went for a potential submission but could not lock anything in. Dos Santos would end up falling to the mat and Velasquez finished the fight with strikes on the ground.
UFC 166 Results:
Cain Velasquez def. Junior dos Santos via TKO (strikes) – Round 5, 3:09
Daniel Cormier def. Roy Nelson via unanimous decision (30-27, 30-27, 30-27)
Gilbert Melendez def. Diego Sanchez via unanimous decision (29-28, 30-27, 29-28)
Gabriel Gonzaga def. Shawn Jordan via TKO (strikes) – Round 1, 1:33
John Dodson def. Darrell Montague via KO (strikes) – Round 1, 4:13
Tim Boetsch def. C.B. Dollaway via split decision (30-26, 27-29, 30-26)
Hector Lombard def. Nate Marquardt via KO (strikes) – Round 1, 1:48
Jessica Eye def. Sarah Kaufman via split decision (29-28, 28-29, 29-28)
K.J. Noons def. George Sotiropoulos via unanimous decision (29-28, 29-28, 30-27)
Adlan Amagov def. TJ Waldburger via KO (strikes) – Round 1, 3:45
Tony Ferguson def. Mike Rio via submission (d'arce choke) – Round 1, 1:52
Andre Fili def. Jeremy Larsen via TKO (strikes) – Round 2, :53
Kyoji Horiguchi def. Dustin Pague via TKO (strikes) – Round 2, 3:51