The first fight on the UFC 166 preliminary card on Fox Sports 1 was a lightweight bout as K.J. Noons secured his first UFC victory as he defeated George Sotiropoulos by unanimous decision.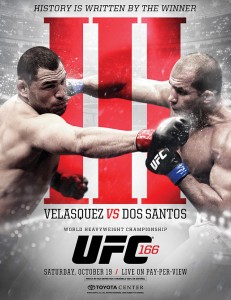 The fight opened with the fighters feeling each other out and Noons threw multiple punches to the body of Sotiropoulos. They would circle around each other as they exchange strikes and Sotiropoulos would accidentally poke Noons in the eye.
Noons would be able to continue and the most action in the round would come in the final 30 seconds of the round. They both landed significant strikes with Noons landing the better punches.
They continued to have their striking battle in the opening three minutes of the second round before Sotiropoulos took the fight to the ground. Noons would limit the offense of Sotiropoulos on the ground and get back to his feet with under a minute to go in the round. The remainder of the round would be on the feet with Sotiropoulos beginning to land more of his strikes.
In the final round, Noon was able to open up a cut on Sotiropoulos and landed a right hand that had Sotiropoulos on his heels. Sotiropoulos attempted to get the fight to the ground, but Noons was able to stop the attempt. Sotiropoulos landed a head kick but was unable to capitalize on the strike. They exchange strikes until the bell sounded and the judges scorecards would decide the winner.
All three judges scored the fight for Noons (12-7) and this victory snaps a three fight losing streak.
UFC 166 Results:
K.J. Noons def. George Sotiropoulos via unanimous decision (29-28, 29-28, 30-27)
Adlan Amagov def. TJ Waldburger via KO (strikes) – Round 1, 3:45
Tony Ferguson def. Mike Rio via submission (d'arce choke) – Round 1, 1:52
Andre Fili def. Jeremy Larsen via TKO (strikes) – Round 2, :53
Kyoji Horiguchi def. Dustin Pague via TKO (strikes) – Round 2, 3:51