The opening fight of the UFC 166 preliminary card was a bantamweight bout as Kyoji Horiguchi defeated Dustin Pague by TKO in the second round.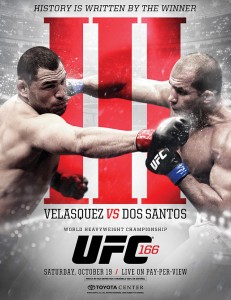 After a brief feeling out process, Pague was able to get the fight to the ground and immediately looked for a rear-naked choke. He would lock in a body lock and Horiguchi got back to his feet as Pague looked for the submission.
He was unable to get the submission but he still was on the back of Horiguchi. Pague would end up losing the position and Horiguchi looked for a takedown against the fence.
The takedown attempt was unsuccessful and the fight moved back to the center of the cage. The round would come to a conclusion as Pague took the fight to the ground and the fight moved into the second round.
As the second round opened, Horiguchi landed a left hand that dropped Pague and looked for a finish on the ground. Horiguchi landed multiple punches on the ground but Pague was able to survive and reverse the position on the ground. However, Horiguchi used a sweep to reverse the position and get back on top.
Horiguchi landed several significant strikes while in top position and referee Herb Dean would end up coming in to stop the fight. Horiguchi (12-1) has now won six in a row and this is eighth career win by TKO/KO.
UFC 166 Results:
Kyoji Horiguchi def. Dustin Pague via TKO (strikes) – Round 2, 3:51