In the final preliminary bout of UFC 166, Tim Boetsch snapped a two fight losing streak with a split decision victory over C.B. Dollaway.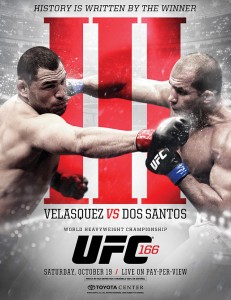 The opening five minutes would be a striking battle with Boetsch pushing the pace early in the round. Dollaway was able to counter the strikes and started to bait Boetsch to come in by dropping his hands. Boetsch would not take the bait and they would strike with each other until the bell sounded to end the first round.
Dollaway opened the second round by taking the fight to the ground and was able to pass to side control. He attempted to lock in a submission but Boetsch would defend the attempt and the fight moved back to the feet. He would attempt a standing guillotine but Dollaway would escape the hold. After a striking exchange, Dollaway took the fight to the ground but Boetsch went for a kimura submission. The attempt was unsuccessful and the fight moved into the third round.
As the third round opened, Dollaway accidentally poked Boetsch in the right eye. There would be blood coming from that eye but he would be able to continue. After the restart, Boetsch came aggressive. Once again, Dollaway would accidentally poke Boetsch in the eye, this time it was in the left eye. The referee would take a point away and Boetsch would be able to continue.
Dollaway would get the fight to the ground after the second restart and Boetsch would get back to his feet. Boetsch landed a right hand in the final minute and they clinched against the fence. Dollaway got the fight to the ground and they scrambled on the ground and Boetsch attempted to get a submission, but he ran out of time.
The judges would be split as two judges have the fight 30-26 for Boetsch, and the other judge had it 29-27 for Dollaway. The victory for Boetsch (17-6) snaps a two fight losing streak and it's his first win since last summer.
UFC 166 Results:
Tim Boetsch def. C.B. Dollaway via split decision (30-26, 27-29, 30-26)
Hector Lombard def. Nate Marquardt via KO (strikes) – Round 1, 1:48
Jessica Eye def. Sarah Kaufman via split decision (29-28, 28-29, 29-28)
K.J. Noons def. George Sotiropoulos via unanimous decision (29-28, 29-28, 30-27)
Adlan Amagov def. TJ Waldburger via KO (strikes) – Round 1, 3:45
Tony Ferguson def. Mike Rio via submission (d'arce choke) – Round 1, 1:52
Andre Fili def. Jeremy Larsen via TKO (strikes) – Round 2, :53
Kyoji Horiguchi def. Dustin Pague via TKO (strikes) – Round 2, 3:51