Following the UFC Fight Night 29 main card broadcast on Fox Sports 1, the organization held the post fight press conference from the Jose Correa Arena in Barueri, Sao Paulo, Brazil.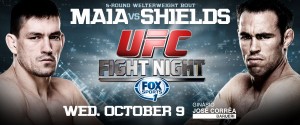 The press conference was attended by UFC executive Marshall Zelaznik, Demian Maia, Jake Shields and Dong Hyun Kim, Fabio Maldonado and Rafael Assuncao.
The complete UFC Fight Night 29 Post Fight Press Conference is below.