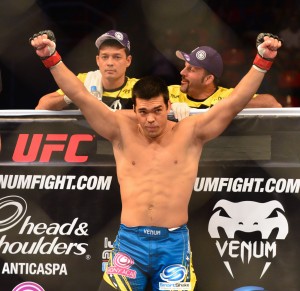 Former UFC light heavyweight champion Lyoto Machida made his middleweight debut on Saturday at UFC Fight Night 30 in England, and he defeated Mark Munoz by knockout in the first round.
Machida and Munoz have trained together in the past and they had a lengthy felling out process at the beginning of the fight.
Both fighters were cautious with the strikes they threw before Machida landed a head kick that dropped Munoz.
Once Munoz went to the ground, Machida went in for the finish and decided to not land any extra punches as we knew Munoz was already out.
Machida (20-4) instantly becomes a contender in the UFC middleweight division and could be potentially a win away from a title shot. Munoz (13-4) has lost two of his last three fights and both of those defeats have come by knockout.
Pearson-Gulliard ends in a no contest
The co-main event of UFC Fight Night 30 was a lightweight bout that ended up being declared a no-contest following an illegal knee that Melvin Guillard landed on Ross Pearson.
As the fighters were against the fence, Guillard landed a knee that appeared to be legal. However, Pearson appeared to have his hand on the ground as Guillard landed a second knee. Following the second knee, the referee immediately came in to call an accidental foul. The second knee that Guillard landed opened up a cut on the face of Pearson, and the fight would be stopped.
The bout was declared a no-contest due to an accidental foul and all signs point to the UFC looking to book a rematch between these two strikers.
The complete UFC Fight Night 30 Results are below.
Lyoto Machida def. Mark Munoz via KO (Head Kick) – Round 1, 3:10
Ross Pearson vs. Melvin Guillard declared a No Contest (accidental illegal knee) – Round 1
Jimi Manuwa def. Ryan Jimmo via TKO (injury) – Round 2,  4:41
Norman Parke def. Jon Tuck via unanimous decision (29-28, 29-28, 30-27)
Nicholas Musoke def. Alessio Sakara via submission (armbar) – Round 1,  3:07
John Lineker def. Phil Harris via TKO at 2:51 in Round 1
Al Iaquinta def. Piotr Hallman via unanimous decision (29-28, 30-27, 30-27)
Luke Barnatt def. Andrew Craig via submission (rear-naked choke) – Round 2, 2:12
Jessica Andrade def. Rosi Sexton via unanimous decision (30-26, 30-26, 30-27)
Cole Miller def. Andy Ogle via unanimous decision (29-28,29-28,29-28)
Jimy Hettes def. Robert Whiteford via submission (triangle choke) – Round 2, 2:17
Brad Scott def. Michael Kuiper via submission (guillotine choke) – Round 1, 4:17