The UFC Fight Night 30 weigh-ins took place today in Manchester, England from the Manchester Central.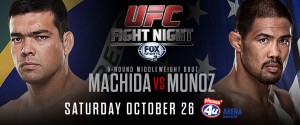 Both main event fighters Lyoto Machida (185) and Mark Munoz (186) hit the scales and were on the mark, as well as the rest of the card except, John Linekar.
Linekar (128) was 2 pounds over and did not reweigh-in so he was forced to forfeit part of his fight purse.
Full results and video can be found below:
Main Card: (Fox Sports 2 – 3 p.m. ET/12 p.m. PT)
Lyoto Machida (185) vs. Mark Munoz (186)
Ross Pearson (156) vs. Melvin Guillard (155)
Jimi Manuwa (205) vs. Ryan Jimmo (204)
Norman Parke (155) vs. Jon Tuck (155)
Alessio Sakara (185) vs. Nicholas Musoke (186)
John Lineker (128*) vs. Phil Harris (125) *2lbs over and fined
Preliminary Card: (Facebook – 12 p.m. ET/9 a.m. PT)
Piotr Hallman (155) vs. Al Iaquinta (155)
Luke Barnatt (185) vs. Andrew Craig (186)
Rosi Sexton (135) vs. Jessica Andrade (134)
Cole Miller (146) vs. Andy Ogle (145)
Jimy Hettes (145) vs. Robert Whiteford (145)
Brad Scott (186) vs. Michael Kuiper (185)