Bellator 106 took place on Saturday night at the Long Beach Arena in Long Beach, California and Eddie Alvarez regained the Bellator lightweight title with a split decision victory over Michael Chandler.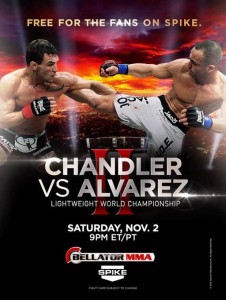 According to Nielsen sources, Bellator 106's preliminary viewership broke the all-time Bellator MMA viewership record with 1.1 million viewers and has since increased 5% to 1.2 million viewers thanks to the live+3 DVR numbers.
This is the first time ever that Bellator has eclipsed the 1 million mark for live+3 and this also snaps a string of sub 700k on the live+3 DVR number.
For more information on what this means and on Nielsen ratings in general, check out my article here.
As a reminder, this adjustments was due to the live + 3 (DVR) numbers which will be released every Tuesday. For those new to Nielsen ratings terminology, live + 3 is a equal to a total of live viewership plus 3 days worth of DVR usage.
Stay with TheMMAReport.com for ongoing coverage of the Nielsen ratings battle between Bellator MMA and the UFC.