Bellator 106 took place on Saturday at the Long Beach Arena in Long Beach, California, and all of the fighters were given at least a mandatory suspension of seven days.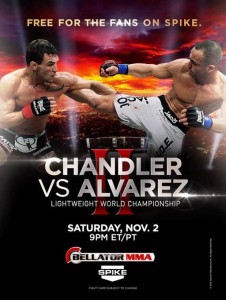 The California State Athletic Commission released the suspensions to TheMMAReport.com on Monday after they were requested.
The Bellator 106 main card feature three title fights with Eddie Alvarez defeating Michael Chandler in the main event by split decision to regain the Bellator lightweight title.
The longest suspensions went to Fight Master winner Joe Riggs and preliminary card fighter Alejandro Garcia. Both fighters are facing six month suspensions with Riggs being suspended for a possible fractured right orbital, and Garcia for a possible fracture of right forearm.
The complete Bellator 106 medical suspensions are below.
Eddie Alvarez: Suspended 60 days with no contact for 60 days or cleared by physician for laceration to left eyelid
Michael Chandler: Suspended 60 days with no contact for 60 days or cleared by physician for laceration to left eye
Emanuel Newton: Suspended 60 days with no contact for 60 days or cleared by physician for laceration to left cheek
Muhammed Lawal: Mandatory suspension of 7 days
Daniel Straus: Mandatory suspension of 7 days
Pat Curran: Suspended 60 days with no contact for 60 days or cleared by physician for laceration to scalp
Joe Riggs: Suspended 180 days with no contact for 180 days or until cleared by a physician for possible fractured right orbital. Also, suspended 60 days with no contact for 60 days or cleared by physician for laceration to left eyebrow
Mike Bronzoulis: Mandatory suspension of 7 days
Mike Richman: Mandatory suspension of 7 days
Akop Stepanyan: Suspended 60 days with no contact for 60 days or cleared by physician for laceration to left eyelid. Also, suspended 45 days with no contact for 30 days
Cristiano Souza: Mandatory suspension of 7 days
Alejandro Garcia: Suspended 180 days with no contact for 180 days or until cleared by a physician for possible fracture of right forearm
Brandon Halsey: Mandatory suspension of 7 days
Hector Ramirez: Suspended 45 days with no contact for 30 days
Jesse Juarez: Mandatory suspension of 7 days
Joe Williams: Suspended 45 days with no contact for 30 days
Mike Guymon: Mandatory suspension of 7 days
Aaron Miller: Mandatory suspension of 7 days
Cleber Luciano: Suspended 60 days with no contact for 60 days or cleared by physician for laceration to right temple
Joe Camacho: Suspended 60 days with no contact for 60 days or cleared by physician for laceration to left upper eyelid
Josh Smith: Mandatory suspension of 7 days
Darren Smith: Mandatory suspension of 7 days