Last night Spike TV and Bellator offered up a replay of Chandler vs Alvarez: Unfinished Business to help hype their much anticipated rematch this Saturday, live and free on Spike TV.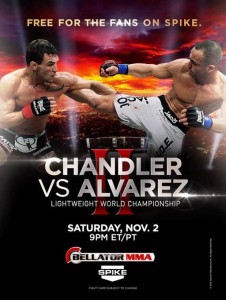 According to Nielsen sources, last night's replay drew roughly 314k total viewers (Monday Midnight premiere drew 267k).
In comparison, the first episode of UFC Primetime featuring GSP and Hendricks (Wednesday night) opened to 126k total viewers on Fox Sports 1.
However, when comparing online views, the UFC dominated with over 100k You Tube hits (as of Nov 1) for the same show, while Bellator only mustered up 16k direct website hits (as of Nov 1) for the same show.
All in all, not terrible numbers for Bellator, but it is worth noting it is a steady decline from the #Rampage4Real episodes that were both north of 400k.
It should be noted the lead-in for the show was Impact Wrestling, which landed at 1.104 million viewers with a 0.32 rating. Impact has been struggling as of late, but this is still a great lead-in and one that
As always stay tuned for all the updated UFC and Bellator television ratings right here on TheMMAReport.com