Daniel Straus defeated Pat Curran at this past weekend's Bellator 106 to become the featherweight champion, and it's unknown whether his first title defense will come against Curran or season eight tournament winner Frodo Khasbulaev.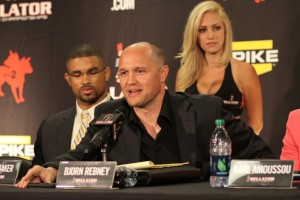 At the post fight press conference, Bellator MMA Chairman and CEO Bjorn Rebney was asked about the potential of an immediate rematch between Straus and Curran.
"Pat has been unbelievable and Daniel did everything I thought he could do when he was ranked in the top ten and came back with an amazing performance," Rebney said on Saturday at the post fight press conference. "I would have to go back and look at it. We do have the championship rematch clause and that was a great back and fourth tough fight but I would want to take a look at it before I would say, which way we would go in terms of Pat. If Pat would get the rematch or someone else would step in to fight Daniel."
If Bellator elected to not give Curran an immediate rematch, the next guy in line for a title shot would be Khasbulaev. However, Rebney told TheMMAReport.com on Wednesday that Frodo is dealing with a visa issue and they are considering an immediate rematch between Straus and Curran
"Frodo is having some visa issues at this point, so I don't know," Rebney said. "Also, we are giving serious considerations of the championship rematch clause. Pat was ranked as one of the top two or three guys on earth at 145. Daniel Straus is an incredible test as our new champion. Where are looking at that potentiality as well."
Rebney did not go into detail on what the visa issue that Frodo is having, and when a decision will be made on Straus' first title defense. It's likely his next title defense will come in season ten, which is expected to begin in January of 2014.