Ryan Chiappe has pulled out of his World Series of Fighting 7 preliminary bout against Marcus Vinicius and replacing him in the bout will be Ryan Dickson.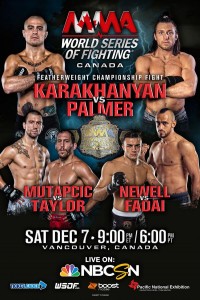 The World Series of Fighting announced the change on Monday.
World Series of Fighting 7: Karakhanyan vs. Palmer takes place on December 7th at PNE Agrodome in Vancouver, British Columbia, Canada and the main card will be shown live on NBCSN.
"We wish Ryan Chiappe a speedy recovery and hope to see him fight for us at some point in the future," World Series of Fighting President Ray Sefo said. "But our team at World Series of Fighting Canada went quickly to work and did a fantastic job in securing Ryan Dickson for our card. Dickson is an impressive young prospect with an incredible story as a cancer survivor, and this could be his opportunity to really make a name for himself. I'm looking forward to seeing what he brings to the decagon."
Dickson (6-1) is a survivor of testicular cancer and this will mark his debut with the World Series of Fighting. Following his first defeat earlier this year, he returned in September and earned his fifth career win by submission as he defeated Advin Omic by rear-naked choke at Havoc Fighting Championship 3.
The current World Series of Fighting 7: Karakhanyan vs. Palmer is below.
Main Card: (NBCSN – 9 p.m. ET/6 p.m. PT)
Georgi Karakhanyan (14-3-1) vs. Lance Palmer (7-0)
Elvis Mutapcic (13-2) vs. Jesse Taylor (26-9)
Nick Newell (10-0) vs. Sabah Fadai (7-2, 1NC)
Kalib Starnes (15-8-1) vs. Dwayne Lewis (13-8)
Preliminary Card: (WSOF.com – 6 p.m. ET/3 p.m. PT)
Shawn Albrecht (9-5) vs. Josh Machan (11-4)
Michael Hill (5-2) vs. Richard Arsenault (9-2)
Matt Baker (9-4) vs. David Perron (5-2)
Ryan Dickson (6-1) vs. Marcus Vinicius (20-5-1)
Dan Ring (5-1-1) vs. Myles Merola (10-7)
Micah Brakefield (3-1) vs. Brendan Kornberger (3-0)