The UFC Fight Night 32 Fight Night bonuses went to Vitor Belfort, Adriano Martins, Omari Akhmedov, and Thiago Perpetuo.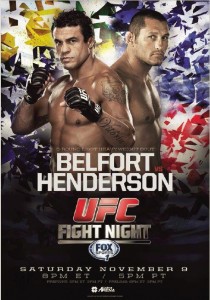 UFC President Dana White announced the bonuses at the post fight press conference and each fighter will receive a bonus of $50,000.
Belfort won the knockout of the night for his first round victory over Dan Henderson. He landed a head kick that dropped Henderson and he becomes the first fighter to stop Henderson by knockout. Along with this being his third straight win, he has won the knockout of the night bonus in all three of those fights.
The submission of the night went to Martins, who defeated Daron Cruickshank by kimura submission in the second round in his UFC debut. It was the fourth career win by submission for the Brazilian fighter and it's the first time he has won by kimura.
The fight of the night went to Akhmedov and Perpetuo for their preliminary card bout. The fighters were back and fourth in the first round, and Akhmedov won the fight at the 3:31 mark of the first round by knockout. Akhmedov improves to 12-0 and six of those wins have come by knockout.
Stay tuned to TheMMAReport.com for more post fight coverage of UFC Fight Night 32.