The UFC Fight Night 34 fight card is nearing competition as the UFC has added three more bouts to the fight card with the matchups being Max Holloway vs. Will Chope, Dustin Kimura vs. Jon Delos Reyes, and Royston Wee vs. David Galera.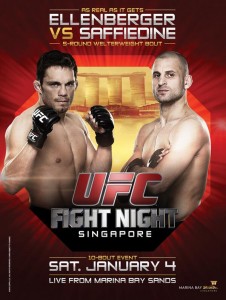 UFC officials announced the new fights on Tuesday and it's unknown if any of the fights will be placed on the main card broadcast.
UFC Fight Night 34 will take place on January 4th from the Marina Bay Sands Expo and Convention Centre in Singapore and will be headline by a welterweight bout as Jake Ellenberger meets Tarec Saffiedine.
Holloway (7-3) has lost back to back fights after winning three straight fights in 2012. Both of his most recent defeats have come by decision, with most recent one coming at UFC Fight Night 26 against Conor McGregor. Chope (19-5) is out of the Philppines and opened his career with defeats in four of his first five. Since then, he is 18-1 and his last seven wins have come by stoppage.
Kimura (10-1) made his UFC debut at the beginning of the year and defeated Chico Camus, but he did miss weight for the fight. He returned at UFC 165 in September and suffered the first defeat of his career as Mitch Gagnon submitted him in the first round. Reyes (7-2) is from Guam and will be making his UFC debut in this bout. He is currently on a four fight winning streak and all of those wins have come by stoppage.
Galera (5-0) turned professional in 2011 and four of his five wins have come in the first round. He is coming off a third round TKO victory in April and it was his first TKO win since his professional debut. Wee (2-0) also turned professional in 2011 and this will be his first fight since the end of 2011. Both of his wins have come by first round submission and has a total cage time of under three minutes.
The current UFC Fight Night 34: Ellenberger vs. Saffiedine card is below:
Jake Ellenberger (29-7) vs. Tarec Saffiedine (14-3)
Tatsuya Kawajiri (32-7-2) vs. Hacran Dias (21-2-1)
Kiichi Kunimoto (15-5-2, 1NC) vs. Hyun Gyu Lim (12-3-1)
Shunichi Shimizu (28-8-10) vs. Kyung Ho Kang (11-7, 1NC)
Katsunori Kikuno (21-5-2) vs. Quinn Mulhern (18-3)
Max Holloway (7-3) vs. Will Chope (19-5)
Dustin Kimura (10-1) vs. Jon Delos Reyes (7-2)
Royston Wee (2-0) vs. David Galer (5-0)