Former UFC middleweight champion Anderson Silva will attempt to regain the UFC title on Saturday night when he meets Chris Weidman in the main event of UFC 168.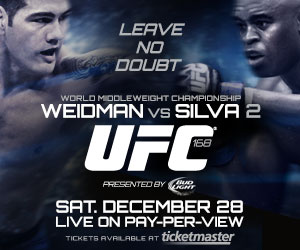 Five months ago, Silva (33-5) walked into the octagon at the MGM Grand Garden Arena in Las Vegas, which will also host Saturday nights UFC 168.
He had never been defeated in the UFC and had successfully defended the UFC title eleven times. His reign as champion would come to an end at the 1:18 mark of the second round when Weidman won by knockout.
One week after UFC 162, UFC President Dana White announced that Weidman and Silva would rematch in the main event of UFC 168. During his UFC 168 Pre-Fight Interview, Silva stated that he needs to maintain his focus for his rematch with Weidman.
"I think that now I need to maintain my focus," Silva said. "I have been doing that while I train for this rematch.  I'll just do what I do best, which is to fight. I needed this time to put my mind in the right place. Put my martial artist spirit in the right place, and be prepared for this again. So I think this is a renewal that is happening. This is a new Anderson that's coming more mature and with the right mindset."
Prior to being defeated by Weidman, Silva had not been defeated since a disqualification lost to Yushin Okami in 2006. It also marked the first time in the career of Silva that he had been defeated by knockout.
Since the conclusion of the first fight, a popular question for Silva has been what is at stake for him in this rematch. For Silva, what's at stake is his comeback and reclaiming the UFC middleweight title.
"What's at stake for me is my comeback," Silva stated. "Me being able to get back what was lost within me. That's what I'm searching for now, that's what I'm looking for; the title. But more than the title, is my energy and my will to always keep winning."
Even though Weidman won the first fight by knockout, most people believe that Silva has the advantage when the fight is on the feet. The former champion believes he does have the advantage on the feet, but is ready to go to the ground if that happens on Saturday night.
"My advantage, as everyone knows, is fighting on the feet. I consider myself to be one of the best stand up fighters in the UFC. I'm also a blackbelt so I'm ready to go on the ground. But as we all saw not much happened on the ground. I think this fight my advantage will be on the feet."
Silva was criticized following the first fight with Weidman for his antics in the cage and some wondered if he took the fight serious. During the fight, his corner told him to fight serious before he was knocked out by Weidman.
He had acted like this before, which appeared to get inside the head of his opponents. Silva's antics would cause his opponents to make a mistake and Silva would end the fight with his punches. This is his style and what he likes to do in the octagon, which he calls a "free fighting style."
"My style is a free fighting style. I like to be loose and be happy in there doing what I like to do. My reference is Muhammad Ali, who's pretty much a ballet dancer in the ring. That's what I like to do. I like to have my own style."