Cage Warriors 63 took place at Lenister, Ireland on New Years Eve, and Ivan Buchinger forced lightweight champion Steven Ray to tap out in the fourth round of what was an exciting, back-and-forth contest.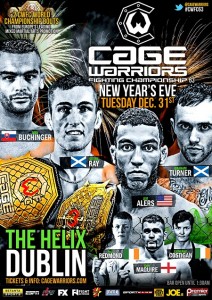 Ray was the more impressive fighter through the first two rounds. He was clearly getting the better of the stand-up exchanges and had a slight edge in the wrestling department.
The tide began to turn in a third round that played out on the ground with Buchinger getting the better of wrestling, although Ray still made his opponent work. Then in the fourth frame, after a scramble, Buchinger was able to get the back of Ray, lock on a rear-naked choke, and elicit the tap.
Buchinger (25-4), who is now the Cage Warriors lightweight champion, has now won four straight since last losing to Conor McGregor. This was the fifteenth submission victory in his career. Ray (14-5) was just starting to put things together. He had won five of his last six, but this loss sets him back.
Maguire wins in Cage Warriors debut
In his first fight since being released by the UFC, John Maguire took home a decision against Philip Mulpeter in a 161 pound catchweight bout.
A win for Maguire seemed unlikely after the first round. Maguire was really inactive and allowed Mulpeter to take the round with a heavy output of leg kicks. Maguire began to gain some momentum in the second frame. He used his wrestling to win the clinch battle, and then he outright dominated the third with a takedown and positional control.
Following a 2-0 start to his UFC career, Maguire (19-6) went on to lose three straight within the organization. Mulpeter's (6-4) stand-up looked sharp at times in the fight, but he was just unable to stop the wrestling game of Maguire.
Alers submits Turner to retain title
Cage Warriors featherweight champion Jim Alers retained his strap by submitting challenger Graham Turner with a well-executed north-south choke in the second round.
Alers started off the second frame by catching Turner with a few stinging right hands. Turner decided to take the fight down, only for Alers to get a sweep, transition to the north-south position, and end the fight with the choke.
The first round also belonged to Alers. It was a frame that started off on the feet with Turner being the more aggressive striker, but Alers being the more economical and effective one. Midway through to the round, Alers threw Turner down and scored points from side-control for the rest of the frame.
Currently on a eight fight win streak, Alers (12-1) looks like an absolute stud. I would expect the 23 year-old to get a call from the UFC sooner rather than later. Don't forget Turner's (23-8) name. He is a very capable featherweight with plenty of stones left unturned. The loss snapped a five fight win streak Turner had built.
Lightweight prospect impresses with submission win
Polish lightweight Mateusz Teodorczuk choked out Cage Warriors stalwart Paul Redmond with an anaconda choke in the second round.
Teodorczuk opened the second frame with a takedown and attempted the choke early on when he saw the opening. The first round was a back-and-forth grappling contest with both men trading takedowns and jockeying for position throughout the period.
Teodorczuk's (11-2) stock has really been rising as of late. With his latest victory over Redmond, he is now on a nine fight winning streak. Speaking of streak's Redmond's (8-4) streak of five was interrupted with the loss.
Daly opens main card with an armbar
For the first time since 2010, Aisling Daly got a win in her home country of Ireland. In the second round, the Irish strawweight latched on an armbar that extended the arm of Karla Benitez, forcing Benitez to tap out.
Daly was able to control the fight in both rounds by mixing up her strikes with her wrestling and taking down Benitez at ease. While Benitez was game off of her back at times – in the first Benitez actually attempted a threatening armbar, Daly was in control for the majority of the fight.
Unfortunately, there was also some really questionable refereeing taking place in the first round of the contest. Referee Rich Mitchell deducted two points from Benitez after she landed one 12-6 elbow to a standing Daly. Deducting one point is justifiable, but there is absolutely no legitimate reason for a referee to take away two points from a fighter who has only committed one infraction.
Heading into this fight, Daly (14-5) was on the wrong of a three fight losing streak, but that streak has now been snapped with the win. This was the fourth time in Benitez's (11-6, 1 NC) career that she lost a fight by submission.
Cage Warriors 63 Results:
Ivan Buchinger def. Steven Ray via submission (rear-naked choke) – Round 4, 3:43
John Maguire def. Philip Mulpeter via unanimous decision (29-28, 29-28, 29-28)
Jim Alers def. Graham Turner via submission (north-south choke) – Round 2, 1:22
Mateusz Teodorczuk def. Paul Redmond via submission (anaconda choke) – Round 2, :51
Aisling Daly def. Karla Benitez via submission (armbar) – Round 2, 4:26