Season eight lightweight tournament winner David Rickels has signed a contract extension with Bellator MMA that will keep him in the organization.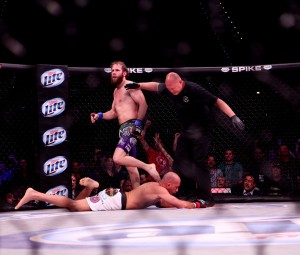 Bellator MMA announced the contract extension on Wednesday afternoon.
Rickels (15-2) has been in Bellator since 2011 and has gone 9-2 in the organization. He started in Bellator as a welterweight and was a semifinalist in the season six tournament.
Following his defeat to Karl Amoussou in 2012, he announced that he would be dropping down to the lightweight division.
He won his first four fights as a Bellator lightweight, which included a second round TKO victory over Saad Awad in the season eight lightweight tournament final. His title shot would take place at Bellator 97 against Michael Chandler and he was defeated in the first round by knockout.
"Well basically I started with Bellator and everyone from the company has treated me very well so I wanted to continue that with a contract extension," Rickels said. "I mean honestly where else can I walk out with a dinosaur or drive my cave mobile to the cage. Also I have unfinished business, I want to redeem my loss to Chandler."
Following his defeat to Chandler, he returned at Bellator 103 in his home state of Kansas and defeat J.J. Ambrose by TKO in the third round. The victory likely secured his place in the next lightweight tournament, which is expected to begin in early 2014 during the tenth season of Bellator.