A bantamweight bout has been added to UFC Fight Night 36 in Brazil as Iuri Alcantara will meet Wilson Reis.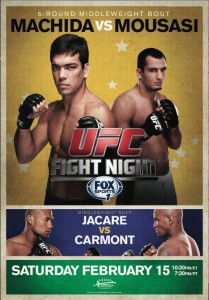 UFC officials announced the fight booking on Thursday and the bout may end up being placed on the main card broadcast on Fox Sports 1.
UFC Fight Night 36 will come from Jaragua do Sol, Brazil on February 15th and will be headlined by a middleweight bout as former UFC light heavyweight champion Lyoto Machida meets Gegard Mousasi.
Alcantara (28-5, 1NC) entered the UFC as a featherweight, but downed to the bantamweight division earlier this year. Since dropping down to the 135 pound division, he has gone 1-1, 1NC and is coming off a decision defeat to Urijah Faber at UFC Fight Night 27.
Reis (17-4) has won five in a row, including his UFC debut against Ivan Menjivar at UFC 165 in September. He won the fight by unanimous decision and three of his last four fights have made it to the third round.
The current UFC Fight Night 36: Machida vs. Mousasi card is below.
Lyoto Machida (20-4) vs. Gegard Mousasi (34-3-2)
Ronaldo Souza (19-3, 1NC) vs. Francis Carmont (22-7)
Cristiano Marcello (13-5) vs. Joe Proctor (8-2)
Viscardi Andrade (17-5) vs. Nico Musoke (11-2, 1NC)
Charles Oliveira (16-4, 1NC) vs. Andy Ogle (9-3)
Francisco Trinaldo (13-3) vs. Jesse Ronson (13-3)
Thiago Tavares (18-5-1) vs. Zubaira Tukhugov (15-3)
Rodrigo Damm (11-6) vs. Ivan Jorge (25-3)
Iuri Alcantara (28-5, 1NC) vs. Wilson Reis (17-4)