The UFC on FOX 9 Fight Night bonuses went to Demetrious Johnson, Urijah Faber, Edson Barboza, and Danny Castillo.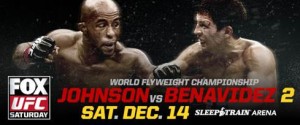 The bonuses were announced by the UFC President Dana White at the post fight press conference and each fighter will receive a bonus of $50,000.
Johnson won the knockout of the night bonus for his first round victory over Joseph Benavidez in the main event of the fight card. As Benavidez was throwing a left hand, Johnson connected with a right hand that dropped Benavidez. He would land a couple of more punches on the ground before referee John McCarthy came in to stop the fight.
This is the third straight fight that Johnson has won a fight night bonus and his fourth overall fight night bonus. He had never won a knockout of the night bonus and he had not won a fight by knockout in three years.
The submission of the night went to Faber, who submitted Michael McDonald in the second round. After stunning McDonald with punches, Faber went for a guillotine choke and McDonald was forced to tap it. This is the second time that Faber has won the submission of the night bonus in the UFC and he has won four fights in a row.
Barboza and Castillo were awarded the fight of the night bonus for their three round fight, which was one of the fights on the preliminary card. Barboza won the fight by majority decision, but most people felt the fight was a draw.
Castillo dominated Barboza in the first round and nearly finished the fight with strikes. However, Barboza was able to weather the storm and come back strong in the second and third rounds. Only one of the judges scored the first round a 10-8 for Castillo, which opened the door for Barboza to win my majority decision.
Stay tuned to TheMMAReport.com for more post fight coverage of UFC on FOX 9.