UFC on FOX 9 took place this past Saturday night at the Sleep Train Arena in Sacramento, California and every fighter on the card received at least a mandatory seven day suspension.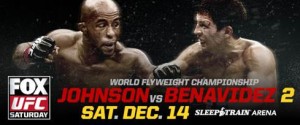 The California State Athletic Commission released the information to TheMMAReport.com on Wednesday.
UFC on FOX 9 took place at the Sleep Train Arena and was headlined by Demetrious Johnson retaining the UFC flyweight title with a first round knockout victory against Joseph Benavidez.
The fighters facing the longest suspensions are Urijah Faber, Mac Danzig, and Court McGee. All three fighters are facing a suspension of six months, unless they are cleared by a doctor.
The complete list of UFC on FOX 9 medical suspensions are below:
Demetrious Johnson: Suspended 7 days
Joseph Benavidez: Suspended 45 days with no contact for 30 days and suspended 60 days unless cleared by neurologist following CT scan and full neurological exam
Urijah Faber: Suspended 180 days with no contact for 180 days unless cleared by doctor for injuries to both hands and left wrist
Michael McDonald: Suspended 45 days with no contact for 30 days and must be cleared by doctor following full neurological exam
Chad Mendes: Suspended 7 days
Nik Lentz: Suspended 60 days with no contact for 60 days for facial cut and must be cleared by doctor.
Joe Lauzon: Suspended 7 days
Mac Danzig: Suspended 60 days with no contact for 60 days for facial cuts and suspended for 180 days with no contact for 180 due to a possible fractured nose. Also, he must have a possible left elbow/shoulder/clavicle injury cleared by a doctor
Ryan LaFlare: Suspended 60 days with no contact for 60 days for cut near left eye and must be cleared by doctor
Court McGee: Suspended 60 days with 60 days no contact for cut around left eye and suspended for 180 days with no contact for 180 days for possible left orbital fracture and resulting vision problems unless cleared by ophthalmologist
Edson Barboza: Suspended 60 days with no contact for 60 days due to head cut and must be cleared by doctor
Danny Castillo: Suspended 7 days
Bobby Green: Suspended 7 days
Pat Healy: Suspended 7 days
Zach Makovsky: Suspended 60 days with no contact for 60 days for possible broken left hand and must be cleared by doctor
Scott Jorgensen: Suspended 60 days with no contact for 60 days for cut near right eye and must be cleared by doctor
Cody McKenzie: Suspended 60 days with no contact for 60 days for cut near right eyebrow and must be cleared by doctor
Sam Stout: Suspended 60 days with no contact for 60 days for cut near right eye and must be cleared by doctor
Abel Trujillo: Suspended 7 days
Roger Bowling: Suspended 45 days with no contact for 30 days due to TKO loss and suspended 60 days with no contact for 60 days for cut near right eyelid and must be cleared by a doctor
Alptekin Ozkilic: Suspended 7 days
Darren Uyenoyama: Suspended 7 days