The World Series of Fighting Executive Vice President Ali Abdel-Aziz recently stated that Marlon Moraes would be fighting for the inaugural bantamweight title in his next fight and it appears it will be against Cody Bollinger.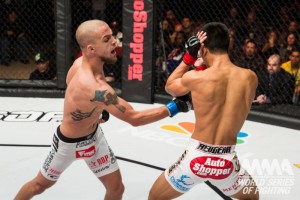 Bollinger made his World Series of Fighting debut last night and won a decision over Tyson Nam. A majority of people felt that Nam should have won the fight, including Abdel-Aziz.
However, the three judges scoring the fight for the Florida State Boxing Commission scored the fight 29-28 for Bollinger.
With the win over Nam, Abdel-Aziz told TheMMAReport.com last night that Bollinger is really the only guy to fight Moraes.
"Cody Bollinger is the only guy really that can fight Marlon Moraes," Abel-Aziz said. "This fight is going to happen, but I was not really happy with Cody's performance. I was being told that he broke his rib before the fight. I wasn't pleased with this fight but mostly likely Cody Bollinger will fight Marlon Moraes next."
Bollinger (15-2, 1NC) has won back to back fights since his exit from Bellator, where he competed as a featherweight. He is 7-1, 1NC in his last nine fights and nine of his fifteen wins have come by knockout or submission. Moraes (12-4-1) is currently on a six fight winning streak and has defeated Tyson Ham, Brandon Hempleman, and Carson Beebe in the World Series of Fighting.
Abdel-Aziz initially targeted to have Moraes fight for the title at the next World Series of Fighting event on March 29th, which will take place in Las Vegas. A venue for this event has not been announced at this time and with Bollinger having a broken rib, it seems unlikely that the title fight will take place on the March 29th card.