The tenth season of Bellator MMA will begin next month with Bellator 110 from the Mohegan Sun Arena in Connecticut and the organization has announced a promotional deal with Carl Jr/Hardee's for the upcoming season.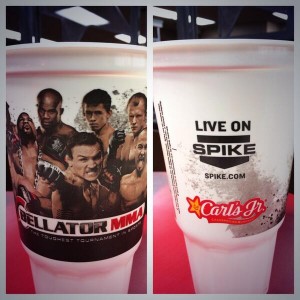 Bellator MMA Chairman and CEO Bjorn Rebney announce the details of the upcoming promotion during a conference call on Monday.
"Carl's Jr is doing a promotion with Bellator," Rebney said. "There are going to be four million Bellator 40 ounce cups in all Carl Jr's and Hardee's around the country. Nationwide distribution starts on January 29th.
Along with the promotional cups being available at the restaurants, the fast food chain will be on location at the first four events of season ten of Bellator to pass out coupons to the fans. During the announcement of the promotion, Quinton "Rampage" Jackson could be heard in the background saying how he liked the french fries at the restaurant.
Rebney admitted that some of the promotional cups have already gone out to some of the stores in the Southern California market, where Bellator is based out of. The promotional cups will be available for purchase next week and will be available at all of the nearly 3,000 Carl Jr./Hardee's locations.